Sgt Dunbar & the Hobo Banned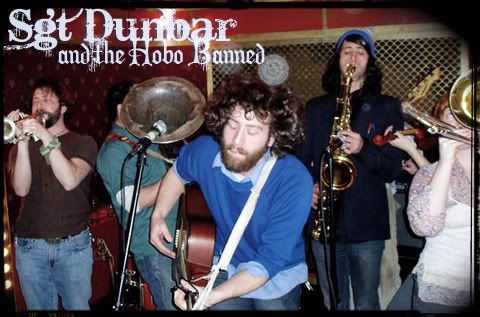 "Sgt. Dunbar and the Hobo Banned … is a passionate collection of brass centric gypsy folk rock featuring a community of spirited voices and an array of instruments that sound like weathered antiques given new life."
(Obsession Collection )
Website: myspace.com/thehobobanned sgtdunbar.com
Booking: am3081@gmail.com
Press Photo: 1 2 3
Members: Alex Muro, Tim Koch, Dan Pardee, Eric Krans, Donna Baird, Louis Apicello, Jen O'Connor, Adam Muro
The Story:
Sgt Dunbar and the Hobo Banned is an eight person indie folk collective from Albany New York and one of the founding members of Albany's B3nson collective. Founded in 2004 as a recording project The Hobo Banned began their career as internet street musicians posting home recordings to sgtdubar.com. After changing its form several times the band settled into its current 8 person in the fall of 2007.
The Hobo Banned's music has drawn influence from artists like Neutral Milk Hotel, Rainer Maria Rilke, Charles Mingus, Charles Baudelaire, Beirut, Edgar Allan Poe, The Microphones and Salvador Dali to name a few across several mediums but it is the band's ability to internalize and reinterpret it's influences as a group that makes their music so excitingly singular.
The accumulation of kinetic energy that exists in their music is passionately displayed during their uninhibited live performances. The often overcrowded stage is populated by frenetic multi-instrumentalists who illustrate a controlled chaos of layered orchestrations, complimenting the philosophical nature of Alex Muro's howled poetry.
In the last year the Hobo Banned has played nearly 100 shows, including appearances with The Avett Brothers, Rock Plaza Central and sets at Mountain Jam, Athens Popfest and the CMJ Music Marathon. The Hobo Banned is currently planning its Spring '09 tour, including dates at South by Southwest, and preparing for its next release.

Press
Sgt Dunbar and the Hobo Banned live – All Over Albany
Sgt Dunbar and the Hobo Banned – The Hippodrome
A Family Affair – Metroland
Best of the Arts: 2007 – Metroland
The Thing About Time – My Old Kentucky Blog
Under The Radar – My Old Kentucky Blog
SXSW 2009 Preview – NPR: All Songs Considered
Mountain Jam Winners to Hear – Obsession Collection Music
Sgt. Dunbar Packed Full of Sound – Obsession Collection Music
Show Review – Retrad Music
Review: 'the Weight' – Said the Gramophone
Sgt Dunbar and the Hobo Banned – Well That's Just Unreasonable